Steel Vintage was founded in 2009 by brothers Jon and Martin. With a relentless drive, they quickly established themselves as innovative leaders in the industry of restored vintage industrial furniture. They have been focusing on producing a unique range of vintage industrial inspired furniture. Each piece is created for modern living and working environments whilst still maintaining an authentic industrial appearance.

This writing is about something beautiful and at the same time extremely solid. These unique, handmade industrial furniture is going to serve you (then your children, grandchildren, great-grandchildren…) very well and very long. That's assuming that you want to spend/invest somewhere between £1k and £100k depending on what you need.
The Steampunk Desk
The Steampunk desk is one of our latest and arguably one of our most impressive designs. Based on the popular Classic X desk, they have given it the Victorian post-apocalyptic makeover to produce a design that is sure to impress. The combination of hand fabricated radiators, copper pipework, and cast steel valves ensures an authentic look.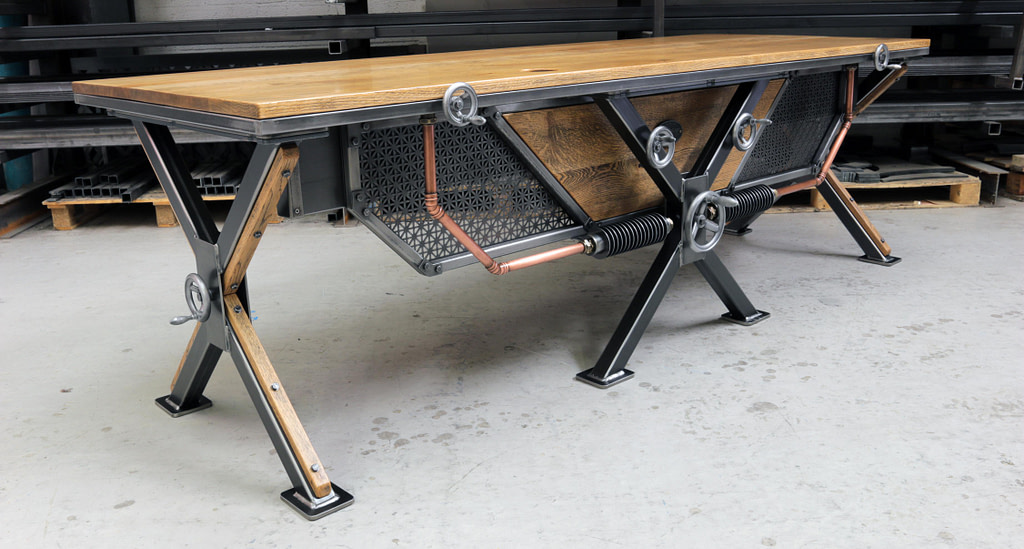 The Brunel Table
As with all of our products the Brunel table is a unique design that cannot be found anywhere else. Perfect for the boardroom or even an industrial-style dining room. The hand fabricated base is constructed using a heavy gauge steel plate which supports the beautiful solid Walnut or Oak top. Solid brass details, add a hint of classic vintage industrial style to the heavily engineered legs.
This is the smaller version of full size Brunel table.
The Brunel Desk
Introducing the Brunel industrial desk, which is based on a hugely successful Brunel table. Similarly to their table, the base is hand fabricated, constructed using steel plates which support the solid Walnut or Oak top. Brass details, add a hint of classic vintage industrial style to this very massive piece of furniture.
The Armoury Sideboard
A striking piece of industrial furniture that is handcrafted from steel and solid wood. Precise details and authentic styling make this a unique design that will last generations.
Thank You For Visiting My Blog.