Thousands of endangered species around the world are on the brink of extinction. And human beings are biodiversity greatest enemy: we're responsible for the endangered status of 99% of at-risk species. A handful of conservationists have been hard at work changing the story for a number of endangered populations. But in the U.S., hundreds of species are still fighting a losing battle for survival.
We've created a series of posters celebrating the wildlife that each State could lose forever.

Reblogged from Behance
Check the original post for more.
Endangered Species List – United States
Posters celebrating the wildlife of each State.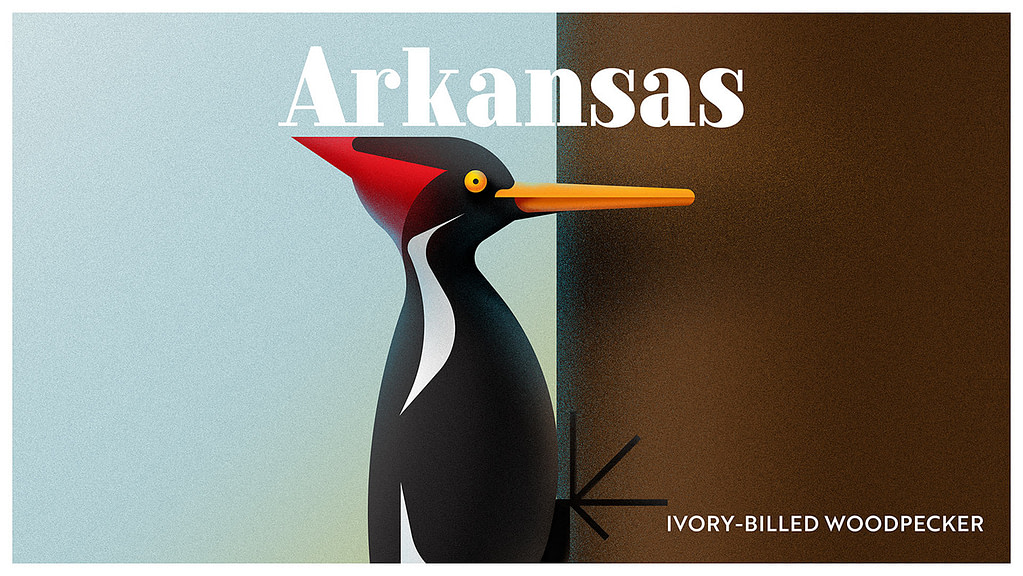 The ivory-billed woodpecker was thought to be extinct as early as 1944. But like Elvis, those reported sightings keep coming in. A cluster of sightings in the early noughties has led conservationists to believe – although they lack definitive evidence – that the ivory-bill prospers still. It was logging that originally did in this particularly large woodpecker, who is so rare that only two recordings of its toy trumpet-like call were ever made.
The draining of the sphagnum bogs and wet meadows and pastures the bog turtle calls home has pushed this orange-patched reptile deep into the endangered zone. What remains of their land is now fragmented, making matters worse. The bog turtle relies on muddy underwater spots to hibernate, while they lay their eggs in sunny spots on the bog. In addition to its habitat trouble, the turtle must deal with the various predators who covet its chewy flesh.
The copperbelly's red-striped tummy is a thing of beauty to behold; unfortunately, this has made the snake vulnerable to a collection from enthusiasts looking for an exotic pet. But the main damage has been done by habitat fragmentation. The water snake needs large, unbroken areas of water to roam. These sorts of areas have been broken up for agriculture, roads, and housing. Now only around 200 copperbelly water snakes remain in the north.
Check the original post for the full list.