Kris Kuksi has said that his
"art speaks of a timelessness, potentiality, and motion attempting to reach on forever, and yet pessimistically delayed, forced into the stillness of death and eternal sleep. He treats morbidity with a sympathetic touch and symbolizes the paradox of the death of the individual by the objective personification of death. There is a fear of this consciousness because it drops in upon us without mercy, and yet there is a need to appeal to it in order to provide a sense of security, however, deluded that sense may be."

Official website: Kris Kuksi Art
Art Of Recycling
One piece from here, one from there and…
It's not unusual for people in the art gallery to point at some small element of the art and say – look at this detail… In the case of Kris's work, there are too many details to point to.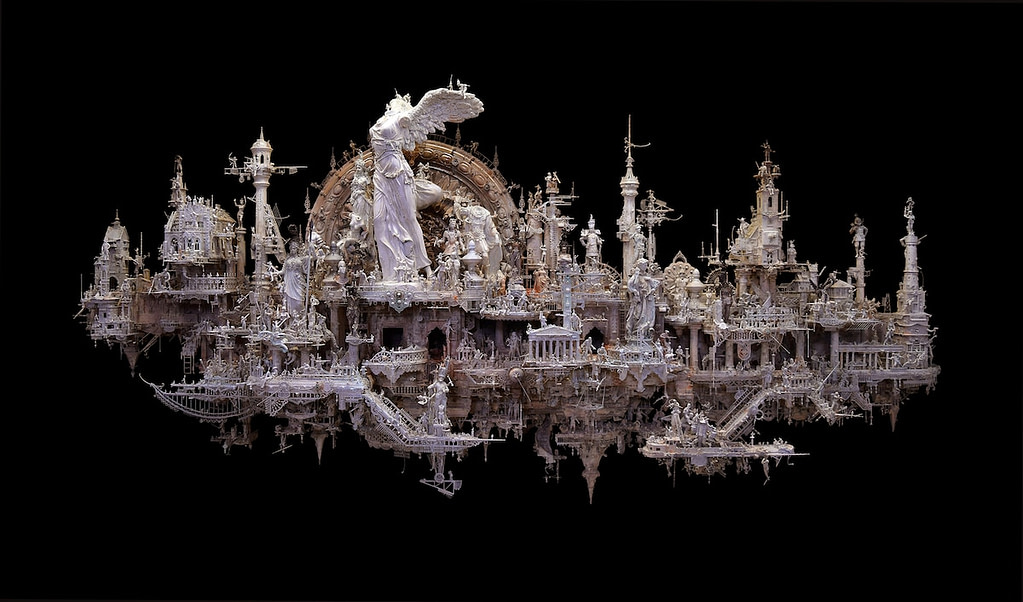 "I get inspired by the industrial world, all the rigidity of machinery, the network of pipes, wires, refineries, etc. Then I join that with an opposite of flowing graceful, harmonious, and pleasing design of the Baroque and Rococo. And of course I add a bit weirdness and the macabre. It's all about how I see the evolution of what man makes his created environment look like."
Kris Kuksi
Capricorn Rising
Reticent Affair
Neo-Hellenism
Reign of Ceasar
Two Minutes To Midnight
Ode To Herculanum
Rapture
Michael vs. the Serpent
The Plague Parade, Una Quarta Movimento
Dharma Bovine
Admiral Otto Von Howitzerhead
The Plaque Parade Opus 2
A Presumptuously Pagan Celebration
Pictures do not do these works justice. The level of complexity is so high that you have to see them in person to fully experience their presents.
Kris Kuksi is an American artist dealing with the genre of Fantastic Realism. He specializes in creating complex artistic installations described as "a study in timelessness and intricacies, reminiscent of lost civilizations, deities and ruins – perfectly preserved. Kuksi's work has been displayed at more than 100 exhibitions worldwide, including satellite art fairs of Art Basel, Pulse (Los Angeles and Miami) and Scope (Basel and Miami). His work is owned by collectors ranging from film director Guillermo del Toro to the Ellis County Bar Association in Kansas.
Thank You For Visiting My Blog.