French artist Edouard Martinet sources junk metal and automotive parts from garage sales and flea markets to create detailed sculptures of various creatures including models of ants, wasps, and other common insects. The found objects are held together with screws instead of welded joints, and the completed works measure between 30 centimeters and 2 meters long.
Art of Edouard Martinet
Praying Mantis
---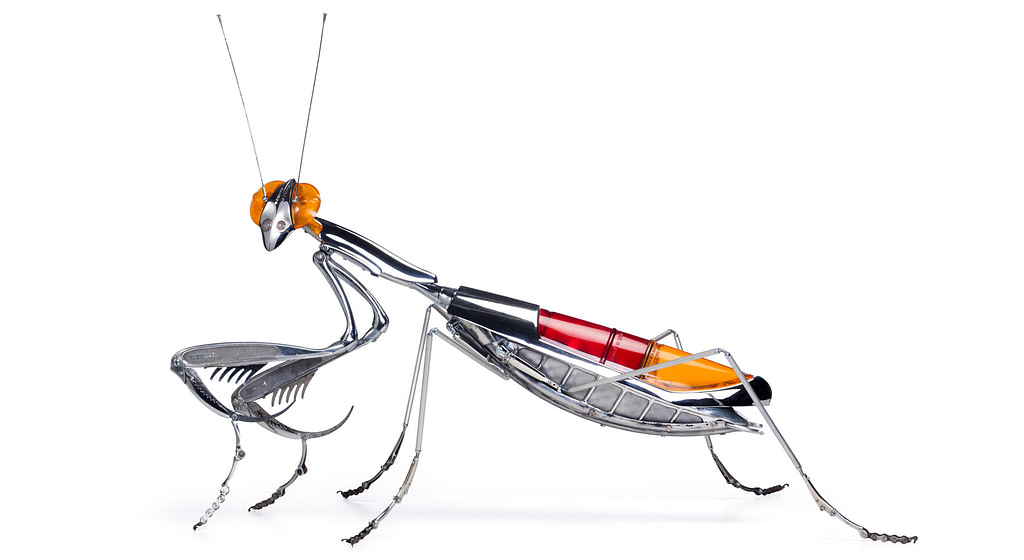 Post by Andrew LaSane.
Check the original post.
Art of Edouard Martinet.
Photos: Xavier Scheinkmann.
Junkyard Mosquitos
The beauty of recycling.
Martinet's fascination with insects began when he was 8 years old. He went on to study design at l'École Supérieure des Arts Graphiques in Paris and to work as a graphic designer before starting to experiment with sculptures made of repurposed parts. Each work begins with an extensive sketching phase, followed by a look through Martinet's large cache of collected "junk." The sculptor rarely modifies pieces to fit a certain application, and will instead wait several months or years if necessary to find the perfect component. He turns bicycle badges into chrome fish scales, chains into antennae, and other miscellaneous scraps into anatomical facsimiles that seem manufactured specifically for his art.
Art of Edouard Martinet
Guepe (Wasp)
---
Art of Edouard Martinet
Fourmis (Ant)
---
Art of Edouard Martinet
Poisson Lorette (Fish)
---
Art of Edouard Martinet
Sauterelle (Grasshopper)
---
Art of Edouard Martinet
Scarabe Bleu (Blue Beetle)
---
An exhibition of Edouard Martinet's work opens on June 1 at Bettina von Armin Gallery in Paris, and you can also follow the artist on Instagram for more looks at his studio process and completed sculptures.
Thank You For Visiting My Blog.