Today I'm going to share with you a couple of thoughts bouncing around my head regarding how a new blogger should approach early fazes of blog creation. I'm not going to engage in explaining of technical aspects of running a blog; there's more than enough information available on that subject. Every hosting company has a page describing the entire process. I'm instead going to share my point of view on with what kind of attitude should you approach your new project. Setting yourself into a proper state of mind can make the difference between success and failure.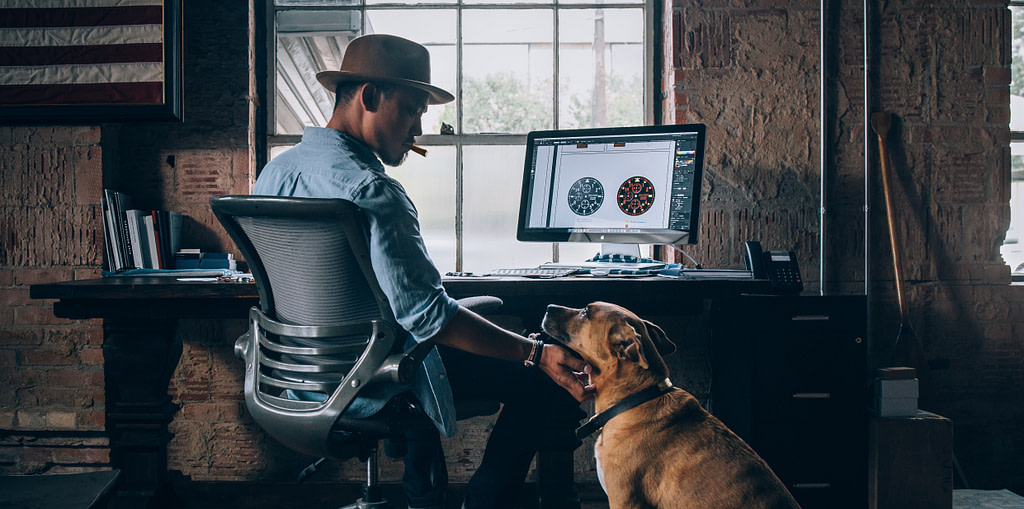 Don't Rush!
I did, and had to redo most of the blog design.
It looks like everyone around you have a "Web Presence." Your family members, friends, coworkers and even that guy living upstairs from you. They all have Facebook pages, Twitter accounts, they use LinkedIn and yes, some of them, I'm talking about those NET savvy individuals, run self-hosted WordPress blogs where they share their deep thoughts and strong opinions making, guess what, a ton of money in the process (or at least they say so).
So you decided to become part of the community. Being a user of The Internet is not enough for you anymore, you want to contribute to the system, you want to be… The Insider. But not just any insider up there. You're not interested in having a Facebook page or post a few photographs to Pinterest, you want to be a serious blogger, you want to run a blog. You want to run a blog with its own dot com domain name, you don't want to run just any blog, you want to run the blog! You don't want to be one of many; you want to be a member of Internet aristocracy!! And you want it all NOW!!!…
Wow! It looks like I've got a little too excited. Hopefully, I've managed to make my point because I need to take a break now and calm down a little. My blood pressure is killing me. 🙂

O.K. I'm back, and I fill great. You have no idea what glass of good bourbon and nice Andalusian Bull from LFD (my last one) can do to my body, I'm ready to continue.
You don't want it all NOW!!! You want it when it's ready, so don't rush. Take your time when designing your blog. You can use one of default WordPress themes, or you can go for premium one (I use Soledad from PenciDesign) and start playing with settings, see what happens. The best way to learn and understand how WordPress works is by experimenting. WordPress and WP themes are incredibly customizable. There's a vast number of WP themes available (free and paid), and with an addition of plugins, the possibilities for customizing your blog are endless.
Make Your Blog Your Own
Don't copy other people's work.
Running a personal blog can be fun as long you control and own what's on it. When I say – make your blog your own, I have a few points in mind.
You need to find a good WP hosting company. Doesn't matter how good your website looks or how great content of that site is if it's running slow and it's down a couple of times a week. You want your blog to be accessible 24 hours a day, seven days a week and you want it to run fast. So, do the research, read message boards where people share their opinions about hosting services they use. You can skip all those "10 best hosts" or "honest review of…" kind of blog posts, these are all paid adverts.
You need to register a domain name. (Good host will help you with this, should fast and easy). Your domain name is your unique identity. Anyone planning to have an Internet presence should register a domain name. Having your domain name will give you a more professional look. Another reason for you to register a domain name is to protect your website ownership. By having a domain name, you make sure that no matter what you do on your end (changing hosts, upgrading servers) your blog will look this same. Having your domain is also good for brand awareness, and search engine positioning.
You need to make sure that you don't use copyrighted content. I'm sure you heard or read that everything on the Internet is a public domain. Let me be clear here, this is a monumental Bull Shit (excuse my French). Everything you can see or hear on the Internet was created by someone, and from the time of creation, whatever that creation is, it is copyrighted, and the author is the one who owns the copyright. It is up to the copyright owner to decide how he/she wants their work to be used. Of course, there is fair use and Creative Commons (CC) and some other possibilities for using content not created by you. Use them all but… make sure that you know what you're doing. Asking for copyright owner permission is always the best option.
I need to add a couple of sentences about the fair use of copyrighted material. I see lots of bloggers using copyrighted pictures/photographs, claiming to be covered by fair use doctrine, but it appears to me that a high number of them have no idea what F.U.D. does or doesn't allow. Here is a link to a well-written explanation of it.
In case you're too lazy to read a long explanation let me give you my take on this subject. Let's say you've created a long blog about some artist whose work you admire. Then, to illustrate a couple of your points, you add few examples of his work, that most likely will pass as fair use. On the other hand. If all you can come up with is one sentence, where you say something about how great this guy is and that thinking about his art keeps you awake at night. Then to illustrate your filling about his art, you'll drop a bunch of high res pictures of his paintings, with multiple links to your Etsy Store, that will NOT be treated as fair use, and you will risk getting in trouble.
Disclaimer:
I'm not a lawyer. The above explanation is only my opinion, and I could be wrong. (Hopefully, Dennis Miller doesn't own the copyright on that last sentence).
After you've taken care of essentials, (domain, host and a basic understanding of content ownership), let's talk about what in my opinion is a proper approach to working on the overall feel of your blog. Doesn't matter if you decided to use default or premium theme, you need to add your own touch to it. Let's start with what I think a blogger should and should not do when creating a new blog.
Don't copy other people's work. What works for them, in most cases will not work for you. You need to add a character to your blog, and it has to be your character, not someone else's. If you find something interesting on someone's else blog, don't just take it and try to sell as your own, reblog it instead. Use an only small part of it and make sure to give a credit to the author. The last thing but not the list – link to the original post.
Don't choose the topic of your posts by Internet popularity. Just because of every blogger out there is posting about some new trend of preparing your food to look beautiful, doesn't mean that you should jump on it. Especially if you think that it's an idiotic idea because everything ends up in a toilet anyway. If you don't believe in what you're writing about, your post will lack passion and won't have any truthful fill to it (unless of course, you want to share your real fillings on the subject).
Write only about the topics that are important to you. No matter if you decide to eulogize over something or criticize it till there's nothing left above the ground, as long you care about the subject of your post and give your honest opinion, you will end up with good writing.
Be yourself. Be authentic, don't try to create some "cool" imaginary persona and present it as yourself. People can sense dishonesty and you'll never build trust with your readers. Don't be afraid to incorporate your personality in the look of your blog and feel of your posts. Don't be copycat, be a creator. Be original. There's no point in recycling someone else's ideas.
Choose quality over quantity. When starting a new blog from scratch, you're not going to have any content on it. Don't let the temptation of writing a bunch of cookie-cutter posts about nothing, to take over your dedication to creating a blog you can be proud of running. Take your time and draft 10-15 posts and put them in the queue (in WordPress you can set the dates of your posts in the future, and WP will make them live when the time comes). Make half of them live, and the rest spread throughout ten days.
Start Blogging
Turn your positive attitude on.
Why being positive is essential when starting a new blog (or any other project)?
Without a positive attitude, you won't go far. Running a self-hosted blog is not free, and it takes time and energy to grow the reader base. Without a sizeable number of people visiting your blog, you won't be able to generate any reasonable amount of sales, so don't expect to make any money.
Unless you're an experienced writer, writing a post will take forever, and after you finish and read it, you'll start rewriting it, because many paragraphs won't make much sense, even to you the author. It takes time to master the skill of writing blog articles, and specifically in case of someone like me, where English is my second language, it's a real pain in… you know what.
Starting a blog and then running it, is an endurance sport. It's hard, time-consuming work. Writing posts is just a part of a blogger's job. No matter how well written and graphically attractive the content of your blog is, it won't do you any good unless people know about it. You'll have to put lots of time and energy into promoting it, and with time, you'll start getting visitors.
People read your posts! Great, after all that hard work, people are finally coming to your blog to check your articles and guess what, they write nice comments. You read them all, you fill great, and suddenly you see something like this: "Hey moron waterboy, who let you use a computer? Why don't you take a walk to a bathroom and hang yourself upside down?"Don't be surprised when it happens, because it is going to happen. There are ass holes everywhere, most of them on the Internet. Be prepared and don't take it personally. Just because some fat guy somewhere, eating blood pressure medication like candy when fantasizing about being MMA fighter, knows how to use a keyboard, doesn't mean that you have to value his opinion.
O.K. Now when you understand why you need all the positive attitude, you can get. Grab your keyboard and start writing. Happy Blogging!
Thank You For Visiting My Blog.